To sell is human. To run a sales team is not.
Leading a sales organization - where everyone has the tools, support, and clarity they need to turn leads into opportunities and opportunities into closed sales - takes a completely different skill set, mindset, and discipline than caring a bag.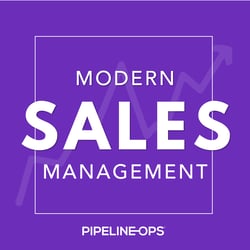 This is why we recently launched the Modern Sales Management podcast. It is one of the only shows for sales managers and other executives responsible for hitting revenue targets.
We know you're busy and diving into a new podcast can be overwhelming. The following guide will help you find the actionable advice and frameworks that matter most to you and your company.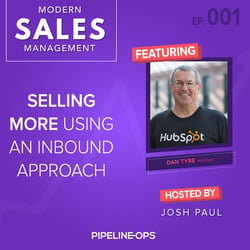 Guest: Dan Tyre from HubSpot
HubSpot was founded in 2005 with zero customers. Today, over 78,000 businesses in 120 countries use HubSpot to grow. Hear from someone who was in the room that first year and has been instrumental at the company every step of the way since. We also discuss how to increase sales by teaching your sales reps to be more helpful.
Listen now and see the show notes.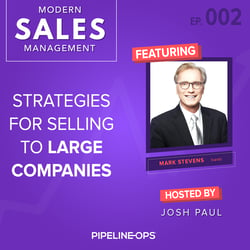 Guest: Mark Stevens from Ivanti
Most sales leadership advice is geared toward selling to consumers or smaller companies. This episode dives deep into enterprise sales and how it is vastly different from selling to mid-sized or small companies. You'll learn how to set your enterprise sales team up for success today and gain a competitive advantage for 2021.
Listen now and see the show notes.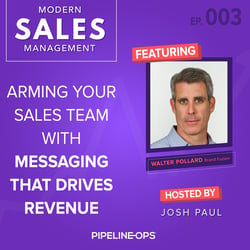 Guest: Walter Pollard from Brand Fuzion
Developing the right sales messaging and getting your team to use it on a consistent basis is a valuable sales enablement strategy. Hear more about modern sales messaging in this episode and unlock its unlimited potential for your business.
Listen now and see the show notes.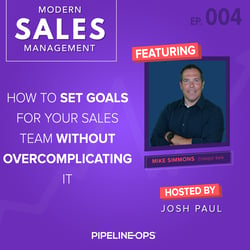 Guest: Mike Simmons from Catalyst Sale
Creating an effective, systematic playbook for a sales team with varying strengths, backgrounds, and capabilities is no easy task. This episode explores how sales managers can break down their sales process into smaller parts so that their team can solve customers' complex problems with simple solutions.
Listen now and see the show notes.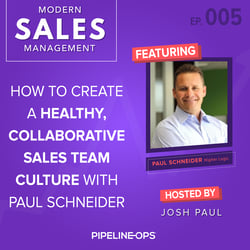 Guest: Paul Schneider from Higher Logic
A positive sales culture plays a huge role in driving sales growth and revenue. In this episode, we talk about ways sales managers can adopt a collaborative approach to building, improving, and motivating their sales teams.
Listen now and see the show notes.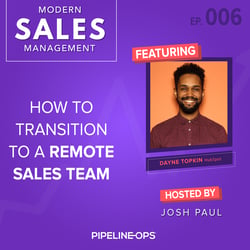 Guest: Dayne Topkin from HubSpot
Sales managers that are new to remote sales (a.k.a. the "COVID-19" sales model) face tremendous challenges. This episode provides actionable tips on how companies can pivot their sales processes and models to gain traction and thrive in remote sales.
Listen now and see the show notes.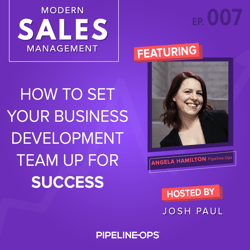 Guest: Angela Hamilton from Pipeline Ops
Setting your business development team up for success is a complex process that can overwhelm even the best sales leaders. In this episode, learn how to overcome challenges and best align your sales teams for revenue growth and scalability.
Listen now and see the show notes.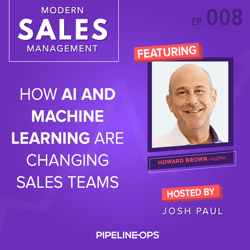 Guest: Howard Brown from ringDNA
Harnessing the power of enhanced data without bogging down your sales reps with complicated tasks is a balancing act for sales managers. This episode shares valuable information about how sales leaders can leverage AI and machine learning to simplify the sales process for reps.
Listen now and see the show notes.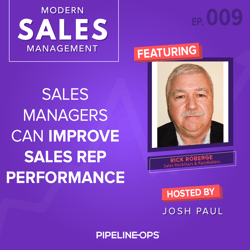 Guest: Rick Roberge from Sales RockStars & RainMakers
Sales managers know that working with and coaching a diverse group of talent is both challenging and rewarding. This episode explores the psychology behind sales coaching and shares how sales managers can work one-on-one with salespeople in order to build stronger teams.
Listen now and see the show notes.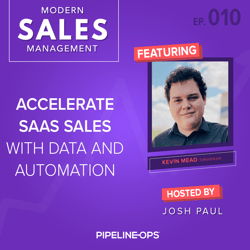 Guest: Kevin Mead from Salestream
SaaS sales teams face tremendous opportunities and complex challenges while trying to drive and scale revenue. This episode shows how to use data and automation to improve the SaaS sales process and maximize revenue growth.
Listen now and see the show notes.
How to Subscribe and Get Modern Sales Management Podcast Updates
You are can listen to the Modern Sales Management podcast from your favorite podcasting app like Stitcher, Apple's iTunes, or Spotify.
You can also sign up for updates on ModernSalesManagement.com and get notified when new episodes drop.