As a seasoned executive, you know how to ask prospects effective questions and say the right things every point in the sales process. Sales conversations flow freely. You are confident in articulating your value proposition. Building trust and authority is second nature.
But, how do you get your entire sales team to use the best messaging throughout the sales process?
That is exactly what I asked Walter Pollard of Brand Fuzion.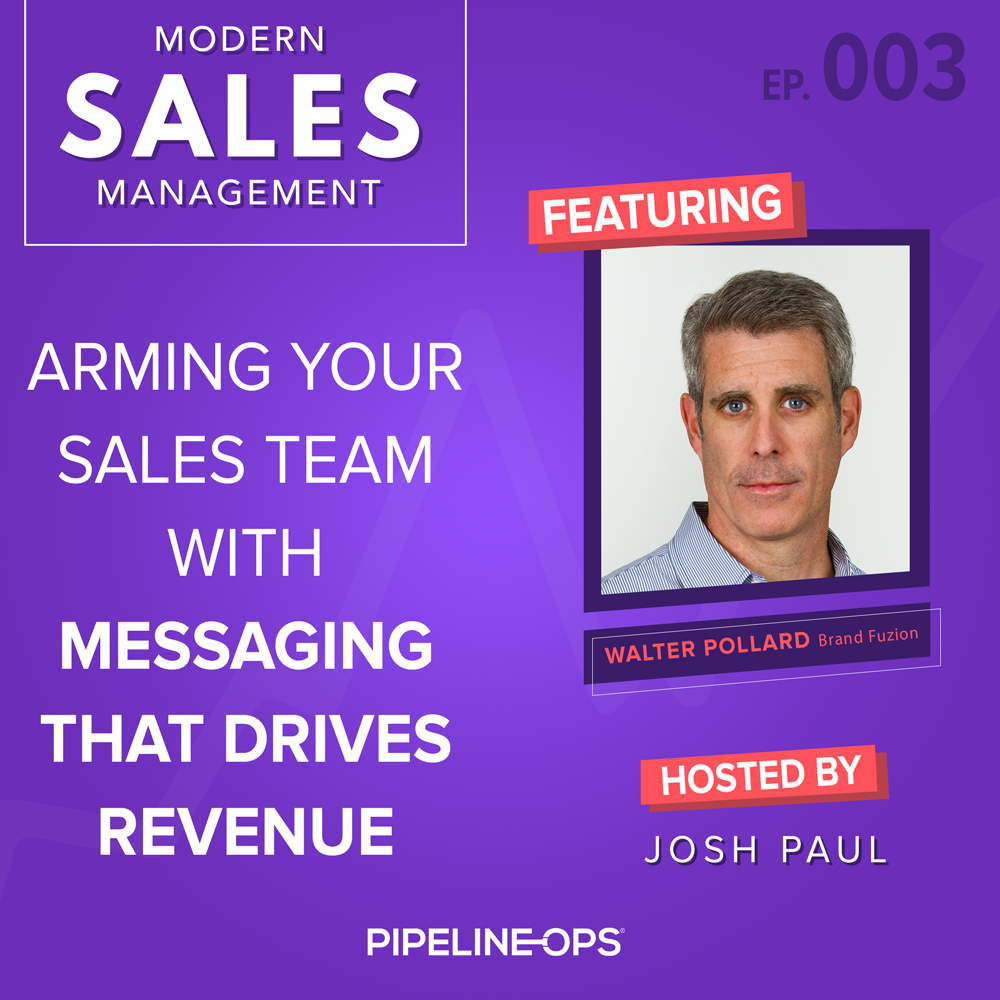 I recently spoke with Walter about sales enablement and operationalizing sales messaging for the Modern Sales Management podcast.
During this episode, we dive deep into how to develop and get your sales team to use more effective messaging. Our discussions include:
What is the Sales Enablement Society?

How has sales enablement evolved and how is it defined today?

What do senior executives need to understand about sales enablement?

What are the biggest challenges facing Chief Revenue Officers and VPs of Sales today?

How should sales teams balance their focus on products and delivering value?

What is the role of messaging in a modern sales team?

How do you structure your sales process so you are sitting on the same side of the table as your sales people?

Where does sales messaging fit into your sales enablement strategy?

How do you measure the effectiveness of your sales messaging?

What steps can you take to develop better messaging?

How can you avoid competing on price?

What do people get wrong the most about sales messaging (and how to avoid it)?

How can companies get all of their sales reps on the same page regarding messaging?

How do you turn your sales messaging into a selling system that your entire sales team can use to win more?

When messaging changes, how can you convey those changes to your sales team without confusing them?

What is the role of your messaging strategy in the onboarding process to get sales reps ramped up faster?

How can sales leaders monitor the use of messaging and reinforce it over time?

How does sales reporting help optimize messages and tactics?

How can marketers test marketing messages faster with better sales and marketing alignment?

Why is feedback from sales reps about your messaging important?

Does sales enablement look different for sales managers than it does for sales reps?
Connect with Walter on LinkedIn and learn about his company, Brand Fuzion, at BrandFuzion.com.
You can subscribe and listen to all episodes of the Modern Sales Management podcast on your favorite podcast app or by visiting ModernSalesManagement.com.