Enterprise sales is vastly different from selling to mid-sized or small companies. The metrics are different. The teams and processes are structured differently. And in a lot of cases, it is exponentially more complex than SMB sales. However, most sales leadership advice is geared toward selling to consumers or smaller companies.
So, how can you set your enterprise sales team up for success in today's environment? How do you tackle issues such as sales and marketing alignment and become an expert on your prospects' growth strategies?
To dive deep into managing today's enterprise teams and get answers to these questions, I asked Mark Stevens, VP of Strategic Alliances and OEM, at Ivanti.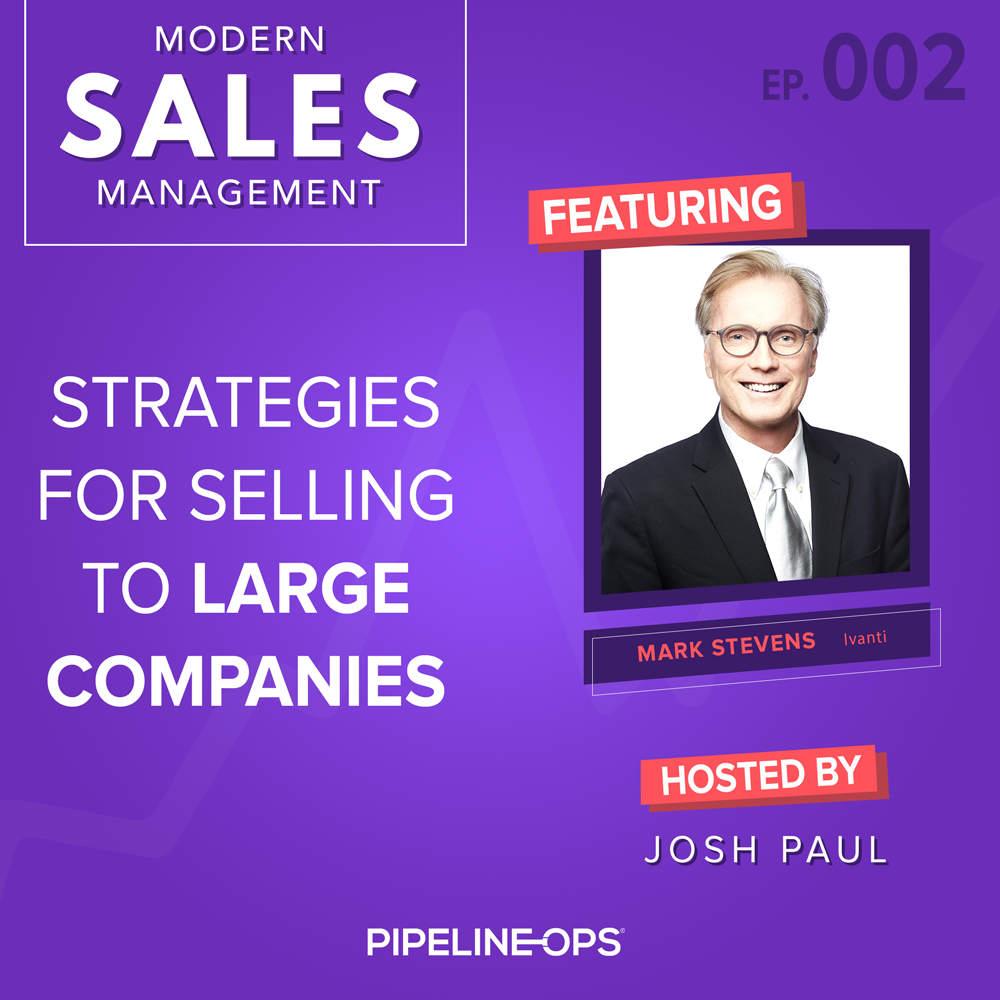 I spoke with Mark about how enterprise sales teams can maintain a competitive advantage and how to plan for 2021 on the Modern Sales Management podcast.
During this episode, we discussed how to sell more to very large companies. Our topics include:
How to build rapport and strong relationships with senior executives at prospective customers?

How do you overcome the biggest challenges CROs, COOs, and anybody responsible for hitting revenue targets face today?

How has the pace of enterprise sales changed in the past three years?

How can sales teams maintain differentiation and stay ahead of the competition?

How can you help your sales team accelerate the sales process?

What are some under-the-radar metrics that enterprise sales teams should be measuring?

How do you manage AE teams and senior sales teams differently?

Can enterprise sales teams expect more or less engagement from buyers when selling remotely?

How are trends in AI and machine learning helping sales teams?

How to increase sales by experimenting more?

Do AEs have a role at the top of the funnel?

How has buyer intent data shifted the way sales teams are managed?

What is micro-enablement and how are sales teams using it to sell more?

How to lead senior sales teams?

What works and doesn't work in sales coaching?

How to "manage up" to make sure your sales team has the tools and sales enablement resources they need to be successful?

How do you make sure your company does not lose institutional knowledge when a senior sales reps leaves?

How do you capture the nuance of deals in your CRM?

How has COVID-19 changed how sales teams execute their strategies?

What role does transparency play in increasing sales?

How can sales managers help salespeople keep a productive mindset in 2020?

How do you run a productive sales meeting via a virtual meeting environment?

What steps can companies take to help marketing and sales work better together?

What will sales teams look like in 2021 and beyond?
Connect with Mark on LinkedIn.
You can subscribe and listen to all episodes of the Modern Sales Management podcast on your favorite podcast app or by visiting ModernSalesManagement.com.