While many companies have been selling their products online with a remote sales team for years, sales managers that are new to this "COVID-19" sales model face tremendous challenges. Tasks such as keeping your sales team engaged, finding new ways to demo/sell products online, and promoting collaboration within a remote team can seem daunting to even the best sales executives.
In the most recent episode of the Modern Sales Management Podcast, I spoke with Dayne Topkin, Content Marketing Manager at HubSpot and the creator of the new HubSpot Academy course, Online Sales Training: How to Move From Field Sales to Remote Selling.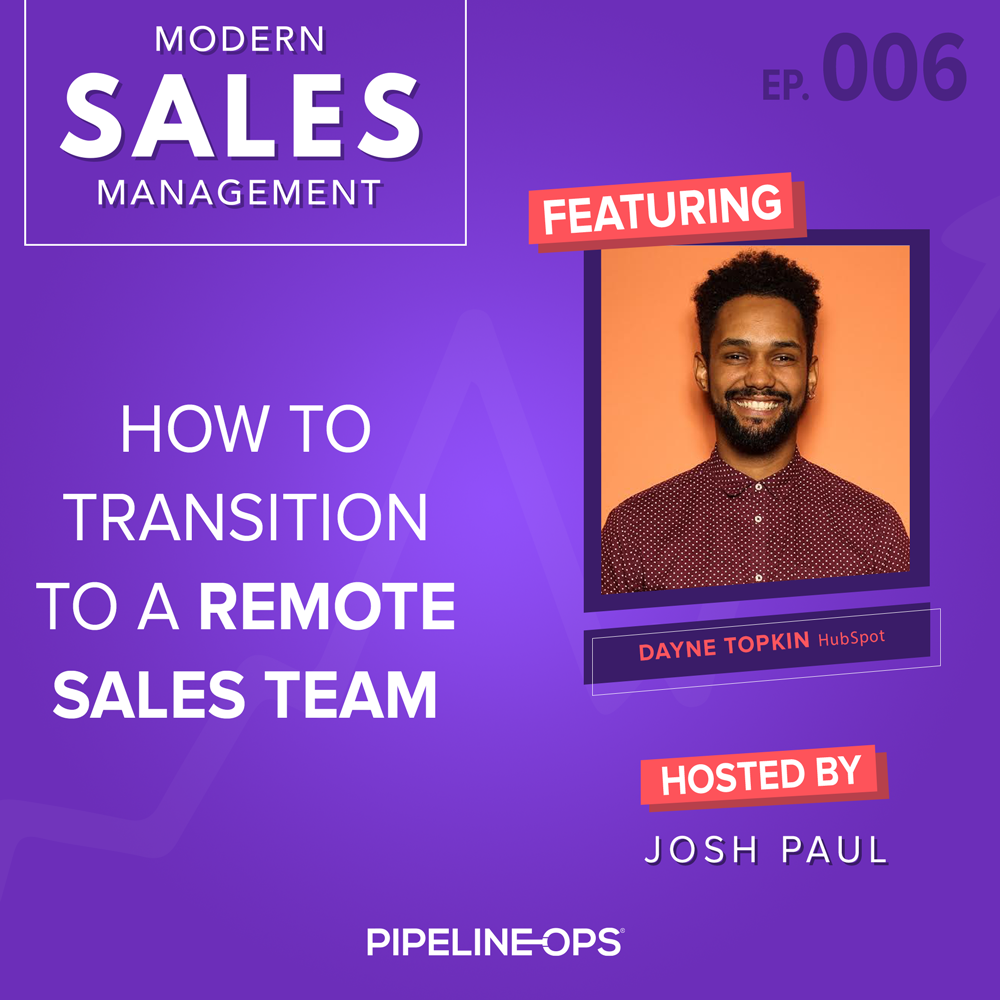 Dayne provided valuable insights on how companies can pivot their sales processes and models to gain traction and thrive in remote sales.
Dayne and I also discussed:
What are the main challenges for sales managers in remote sales?
What are some benefits of transitioning a sales team to a remote setting?
Should we assume that the shift to remote sales is a permanent change for all companies and products?
What are some tips and techniques for sales managers navigating the "new normal" of remote sales?
How has COVID-19 changed sales interactions?
Are some products (i.e. those with complex demo processes) harder/impossible to sell online?
Is there anything in field sales (process-wise) that can not be done online?
How can sales managers foster collaboration within a remote sales team?
What are some ways to keep sales reps engaged and motivated while they're working at home with countless distractions?
How can you make critical information available to all salespeople at all times?
What are some mindset shifts sales managers need to make when moving to a remote sales setting?
How do you keep sales reps connected and energized when they're working alone at home?
What is an urgency matrix and how can it help your remote sales team?
Connect with Dayne on LinkedIn and check out some of his most recent HubSpot Academy online sales tips at https://academy.hubspot.com/lessons/online-sales.
Dayne is also part of a huge HubSpot training initiative that focuses on 2020's unique challenges and opportunities. Learn more about this program at https://offers.hubspot.com/adapt2020.
Subscribe and listen to all episodes of the Modern Sales Management podcast on your favorite podcast app or by visiting ModernSalesManagement.com.