According to HubSpot research, the average salesperson only spends about one-third of their day selling. The rest of their day is spent on non-revenue generating activities such as writing emails, entering data, prospecting and researching calls, going to meetings, and other administrative tasks.
As a sales leader, one of your main priorities should be finding ways to keep your salespeople selling. After all, more sales time will increase productivity, revenue, and the bottom line for your business.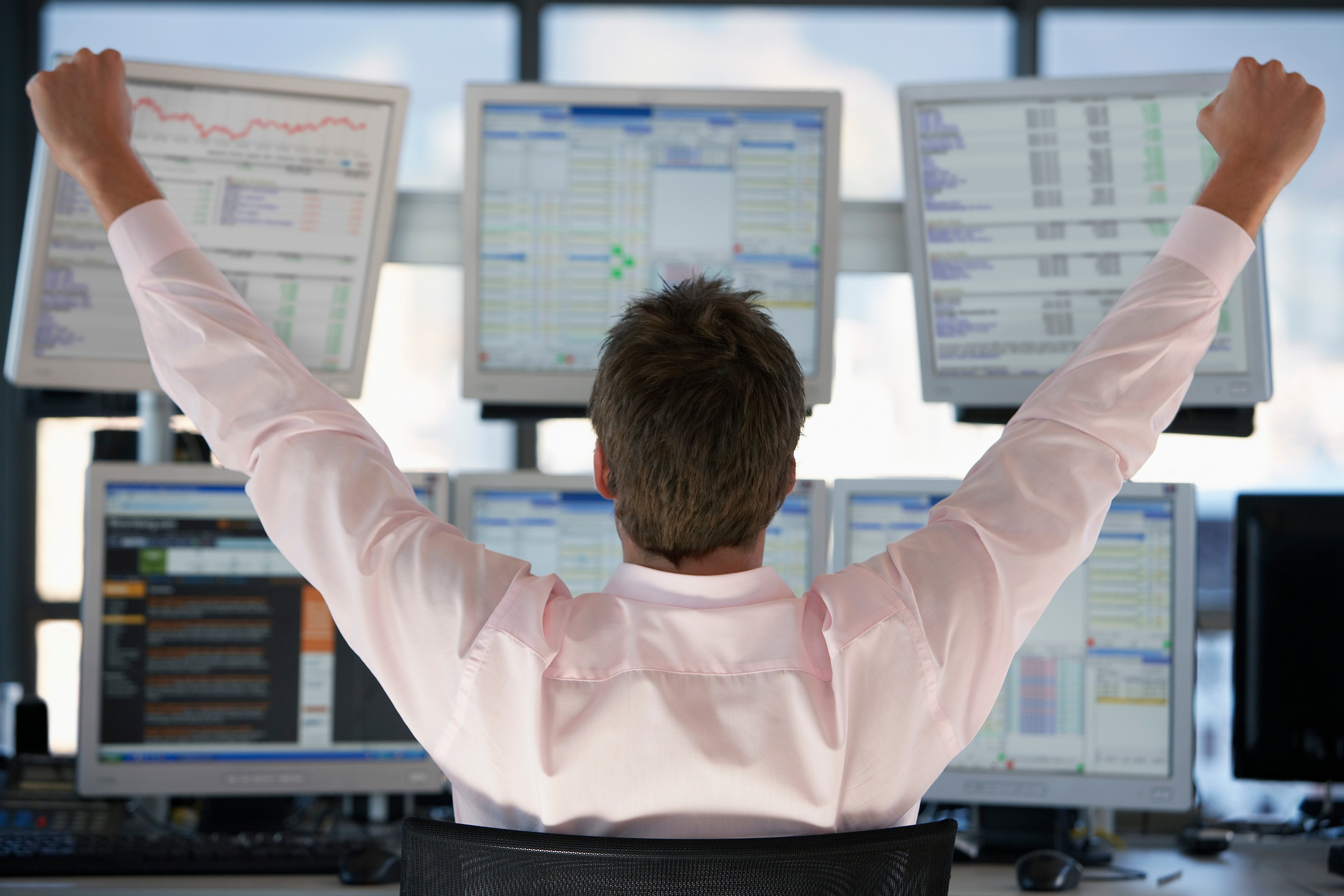 The Challenge of Sales Productivity
Before discussing how to increase sales productivity, it is first critical to understand what could potentially be a common cause for the struggles your team may face.
Below are just a few reasons companies struggle to increase sales productivity.
Inconsistent sales strategies and processes - When companies look to improve techniques for salespeople by constantly updating and changing their business development strategy and lead management processes

, it can work against them. Salespeople become trapped in a constant state of adjustment and spend too much learning new strategies instead of perfecting one.



Lack of comprehensive sales training - According to HubSpot

, high-performing sales organizations are twice as likely to provide ongoing training than lower performing ones. If your sales team doesn't have access to consistent and comprehensive sales training, productivity will suffer.

Low morale/excessive amounts of pressure to exceed targets - Sales leaders have a tendency to become obsessed with numbers, quota, and targets because that's the name of their game. However, your sales team may need a softer approach. Applying excessive pressure to boost productivity rarely works and low morale will perpetuate your issues.
Missing/inadequate sales tools - The average sales reps uses six tools

on a daily basis. Tools such as CRM, data and list services, social media platforms, and phone/email engagement can keep the sales process moving quickly and efficiently. Therefore, not having access to these valuable tools will grind your team's productivity to a halt.



Misalignment between sales and marketing departments - Tight alignment between your sales and marketing departments

can make your team

67% better at closing deals

. Having siloed teams that are working towards completely separate goals is one of the easiest ways to decrease sales productivity.
Now that you have a better understanding of what can harm sales productivity, let's talk about the steps you can take to avoid these pitfalls and continuously improve sales productivity for your team.
18 Ways to Increase Sales Productivity
1. Invest in Proper Sales Training
Most organizations believe that hiring top talent is the best way to ensure the exemplary performance of their sales team. While this may be true, it is inconclusive. Apart from hiring top talent, you must offer proper sales training to both your new and seasoned team members.
As the sales environment changes and the buying process becomes more complex, ongoing training is desirable to keep reps updated. Research shows that ongoing sales training results in 50% higher net sales per salesperson. Also, sales coaching improves sales productivity by up to 88%.
2. Align Marketing and Sales
Did you know that aligning marketing and sales departments can increase quota attainment by 25%, win rate by 15%, and annual revenue growth by 32%?
Therefore, companies need to overcome the silo mentality. Sales and marketing teams should work interdependently to improve productivity and profitability. This includes aligning goals, data, processes, content, and communication channels.
3. Understand Your Ideal Customer
In sales, you must know the primary drivers of revenue for your company. Who are your best customers? Focusing on customers who generate the most value for your business is a best practice for increasing sales productivity.
It's also important that your marketing department is working closely with your (sales) team to identify your ideal customer profile. For instance, if you sell luxurious shoes, you wouldn't want marketing to target lead sources like college students. Instead, they should get leads from high-end consumers. When sales and marketing have shared and related data about your best customers, your selling time becomes optimized with better results.
4. Generate High-Quality Leads
It is best practice to generate quality, not quantity leads. Quality leads are more likely to convert and should trump over quantity. Work directly with your marketing team to build a system for generating quality leads. Besides having an ideal customer profile, another way to generate good leads is by developing a lead qualification system.
Another tactic for producing quality leads is to adopt an inbound lead methodology. Inbound leads are further along in the decision making process than traditional leads and should be easier (and faster) to close. Having access to the right leads will keep salespeople selling and increase revenue for your company.
5. Track Sales Activities
You can only increase sales productivity when you identify and understand where you currently stand. Only then will you identify areas that require improvement.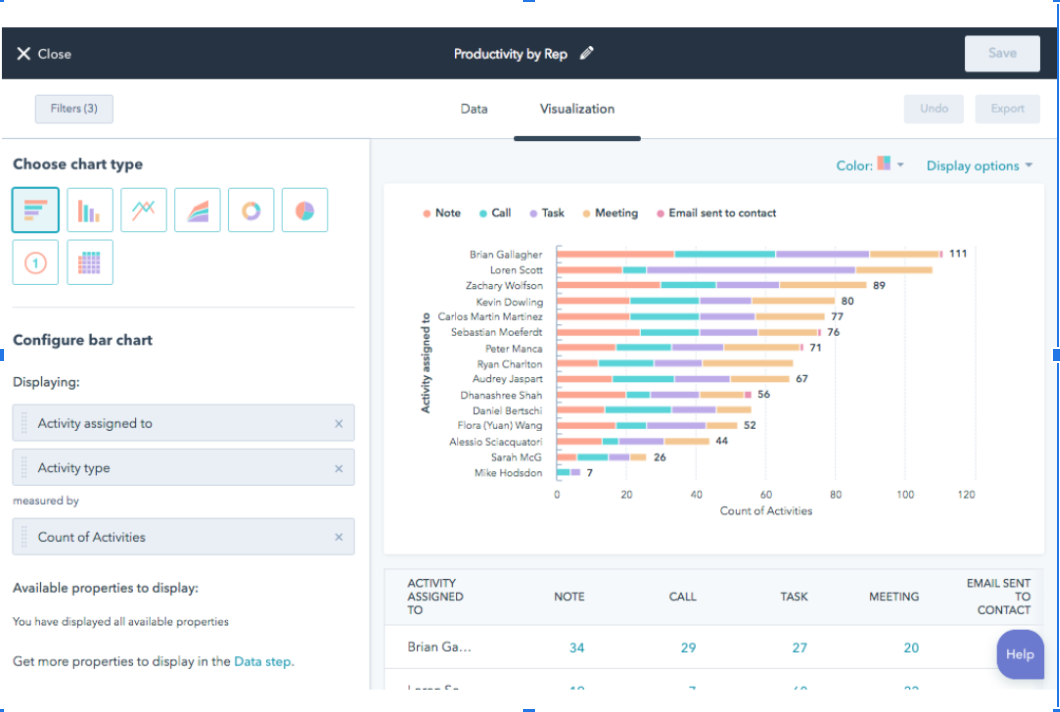 Start by tracking each sales agent's activities and weighing them based on productivity. You can measure metrics such as conversion rates, average sales, and sales achieved vs. the forecast.
6. Save Time Booking Meetings With Calendar Tools
Sales reps have busy schedules and time management is key to sales productivity. Calendar tools become handy for organizing their schedules. Whether you utilize Outlook, Google Calendar, or an app on your phone, calendar tools help keep reps on schedule.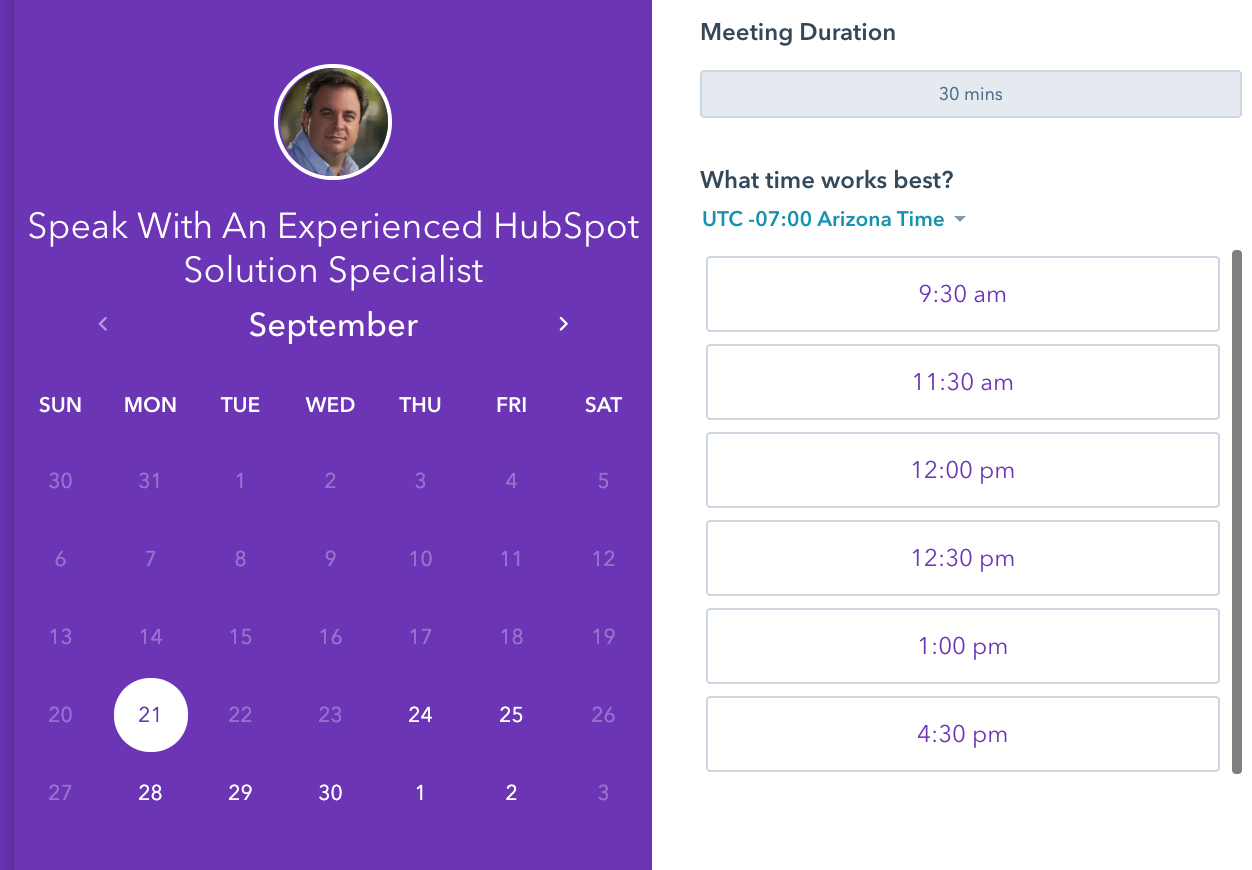 As more sales teams make the transition to remote selling, most calendar tools sync seamlessly with virtual meeting software platforms such as Skype, Zoom, and GoToMeeting. These integrations can save your reps time and effort when booking meetings with clients, colleagues, and even supervisors.
7. Communicate Regularly
Ongoing communication with your team can go a long way in improving sales productivity. It is a best practice to hold regular meetings to get feedback from the team and brainstorm ideas that can improve performance. Your team should have the freedom to air their grievances, ideas, and provide feedback.
Communication is especially important if your sales team is newly remote. Salespeople tend to be social by nature and remote work may present them with initial psychological challenges. A regular meeting cadence can keep these issues at bay.
Taking time to communicate with the sales team has positive outcomes for motivating them and providing a sense of belonging. This way, the sales team will be more willing to work harder, and subsequently, improve productivity.
8. Empower Your Team With Simple Processes
One way to increase sales productivity is to empower your sales team. Ensure that your team has the resources – processes, information, and training required to work effectively. An empowered sales team is a productive team.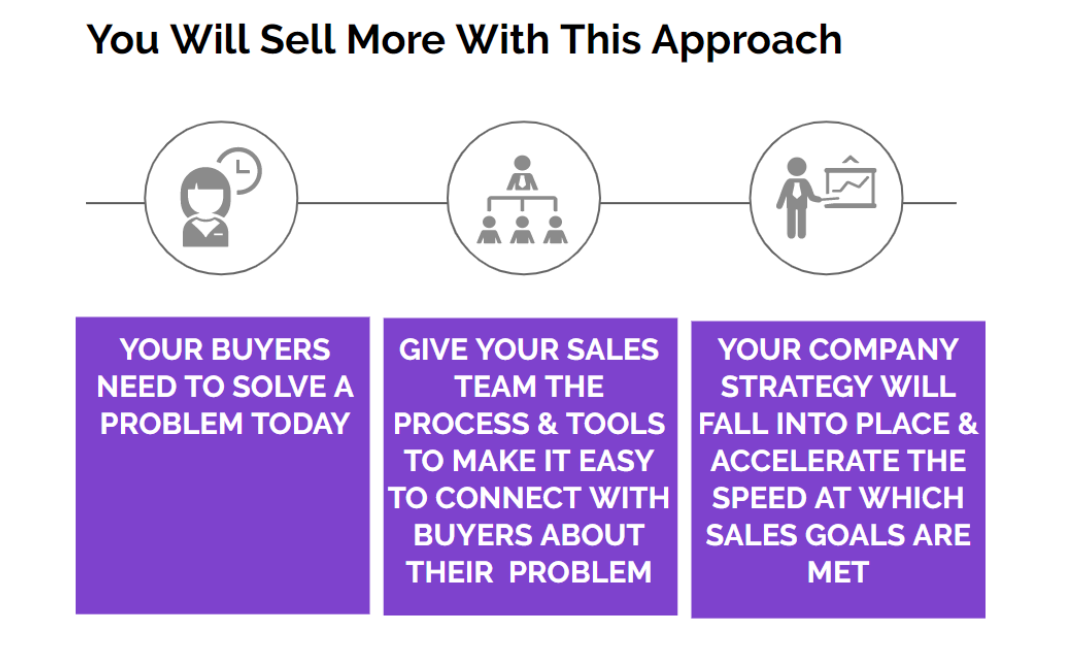 The best sales leaders want their sales reps to have the easiest jobs in the world. Equipping your team with a simple sales process that is complex on the back-end is key to boosting sales productivity.
9. Evaluate and Re-Evaluate the Sales Process
An ineffective and inefficient sales process can cost your business thousands (or millions!) of dollars in lost revenue. Therefore, enterprises must strive to make their sales processes as effective as possible.
The best place to start in your sales process evaluation is to map your buyer's seller's journeys to see if there are alignment issues. See example below: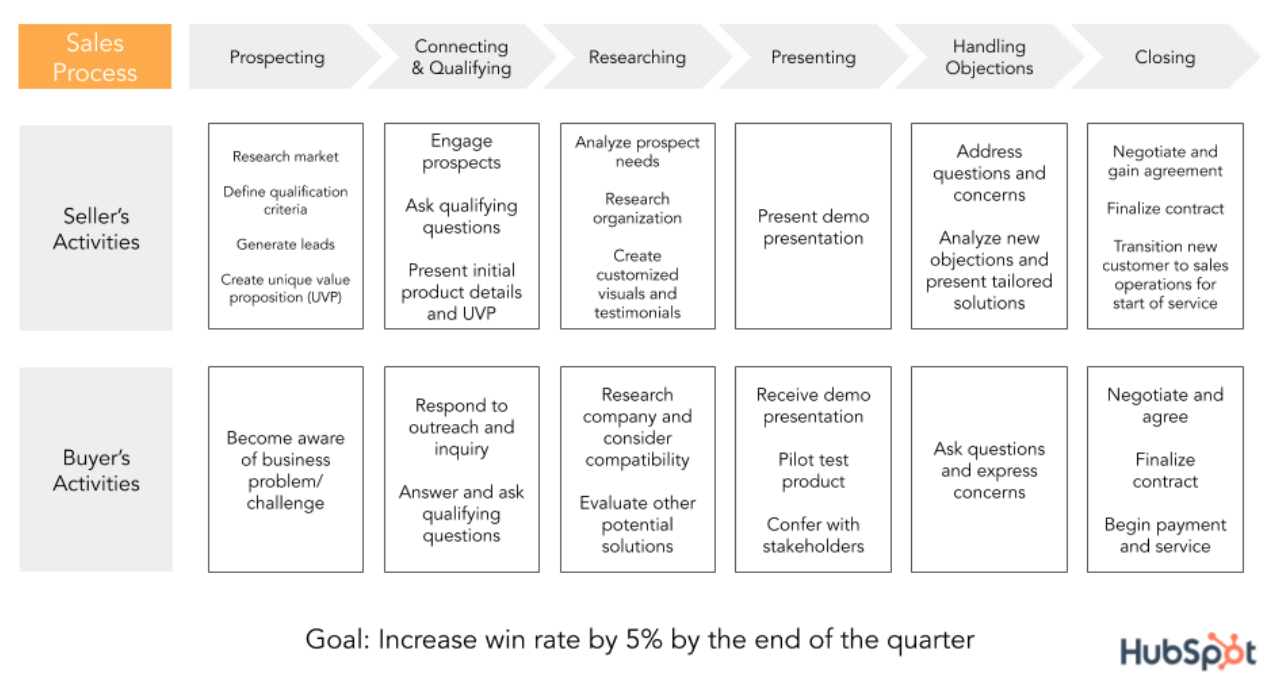 Seeing both journeys visually laid out should help you identify misalignment within your current process. Then, you can shift focus on ways to optimize the process and fine-tune it as the needs of your business evolve.
10. Teach Reps to Send More Precise Emails
Sales messaging is as much an art as it is as a science, but simplicity is always better for sales reps from a time-saving perspective.
Sending more precise emails does not have to equate to sending longer messages. Business author Cal Newport explains a three point efficient process to save time by sending better emails in his book, Deep Work. His work suggests sales teams take the following approach:
Identify the goal of an email
Figure out the process that will accomplish that goal
Explain the process in detail so that everyone understands it
Focusing on the details and content of your sales emails and messaging will give time back to your sales rep so they can focus on closing deals and growing revenue.
11. Invest in Your CRM and Automation
As mentioned earlier, sales teams spend 64% of their time in non-revenue generating tasks. You can reduce the amount of time salespersons spend on these tasks by investing in your CRM and automation.
Automation increases sales productivity by 14.5% and cuts marketing spend by 12.2%. Providing your sales team with a CRM that automates the technical parts of your sales process will allow reps to focus more time on the part of their job that requires a human touch. Although CRM software packages are a big investment, they can save you time and money in the long run when optimized for your business needs.
12. Focus on CRM Adoption
Your role as a sales leader does not stop as soon as you approve the purchase of a CRM tool. After all, if everybody uses a different tool set or process and enters data into your CRM sporadically, it limits your ability to understand your sales data, forecast accurately, and identify weak points in your sales process.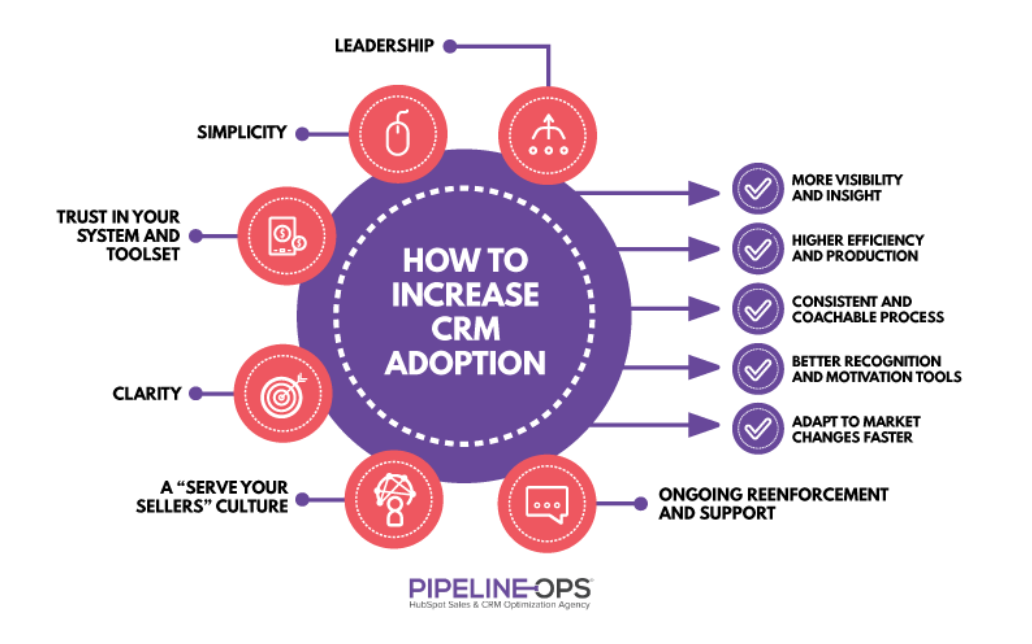 Having a CRM adoption program is one of the best ways to ensure that your leads are going to be worked by your sales team. If everyone on the team uses the same playbook and your CRM processes are followed, a higher percentage of leads will (eventually) turn into revenue.
13. Optimize Your Social Channels
Research shows that 65% of reps who utilize social selling fill their pipeline, compared to 47% who do not use social selling. Also, social selling boosts win rates by 5% and deal size by 35%.
As such, sales teams who want to improve their sales productivity must invest in social selling. They can use social media in all stages of the sales process, ranging from networking to prospecting and customer service.
14. Set Goals
Setting goals will keep your sales team motivated and increase productivity. Short-term and long-term goals can help you remain focused, promote accountability, and boost productivity. Do not forget to celebrate when you accomplish your goals.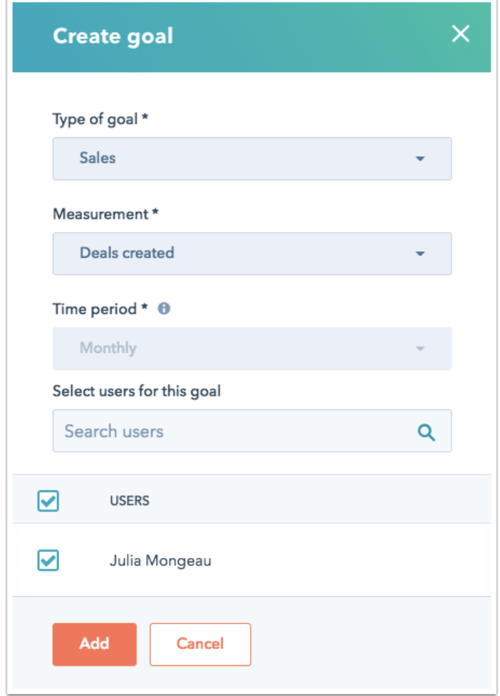 CRM software packages like HubSpot make it easy to set sales goals for your team
Rather than simply shipping out the monthly quota and expectations, try sending out the goals to the sales team while soon afterwards following up with these representatives. Offering assistance, time, or just being heard can go a long way when it comes to the effectiveness of reaching goals and maintaining consumer and team satisfaction.
15. Motivate Salespersons
One of the primary things that hurt sales productivity is reps feeling unmotivated. You can increase sales productivity by motivating sales agents in ways that cater to their distinct personalities. Boosting morale can be tricky as every individual sales representative is different; this is why getting to know the team is also a key concept to success.
During your next salesperson's 1:1, ask them about their favorite coffee shop, restaurant, or retail location. Take note and make sure you always have a gift card ready for that particular place. You can also celebrate with a "champagne campaign." The next time they reach a goal or make their quota, place a bottle of champagne on their desk and leave them feeling recognized and appreciated.
16. Manage Content Better
According to a recent survey, sales agents waste 30% of their day finding relevant content to share with prospects and customers. Salespersons regularly report struggling to find the right content at the right time.
It is vital to work with your marketing team to create a central repository for your content so that salespeople can access it quickly and seamlessly. The faster sales reps can disseminate information to their prospects, the quicker they can close deals.
17. Reduce Pressure and Make Adjustments
Sales representatives and executives all feel the competitive nature and added pressure that pushes them to perform and attain their sales goals and quotas. However, even the most efficient sales professionals are guaranteed to have an off week, or even month. This is what makes re-evaluating your sales quotas so important. Finding a perfect balance between what is challenging yet attainable should be the goal.
18. Use Sales Leaderboards and Dashboard to Perpetually Improve
The amount of curated data ready for use is at an all-time high. This information is how organizations know exactly what works, what are areas to work on, and where opportunities exist to implement newer sales techniques. Many companies are not consistently improving sales productivity because they do not regularly track or share results with their team.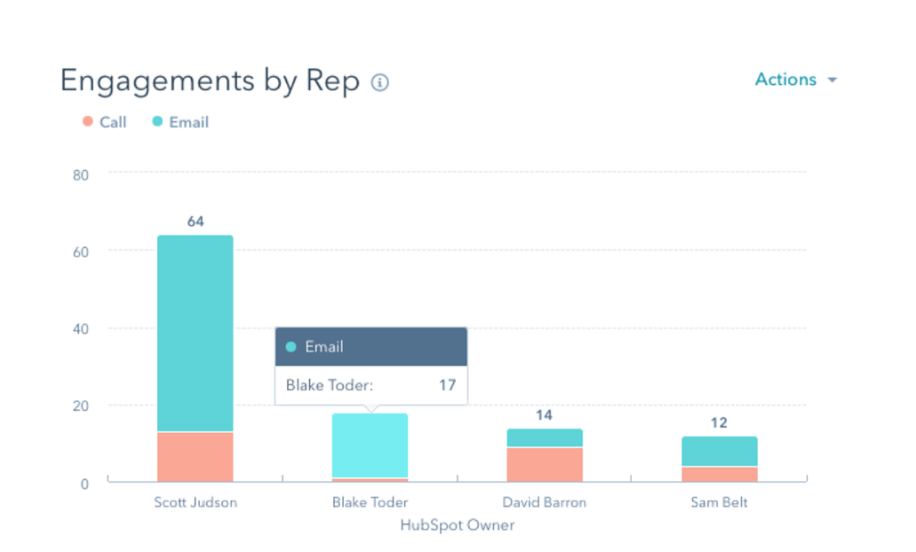 Shared online sales dashboards or leaderboards displayed on a TV in your office reinforce your focus on key metrics during daily sales activities. These dashboards and other charts drive accountability and keep sales reps focused on the performance and process data that matter most to their success (and your company's success).
Organizing, tracking, and strategically presenting your sales data is directly linked to ensuring the success of your sales team, retaining top performing sales reps, and the long-term growth of your business.
Increasing Sales Productivity Takeaway
Amidst ever-increasing pressure to meet or exceed quotas, many sales leaders struggle with sales productivity. Especially now, as sales teams transition to remote selling and managers have limited "facetime" with their reps, productivity seems to be more at risk than ever before.
As a sales executive, you need to focus on ways to get your sales teams selling more and increase their productivity. Use the tips outlined above to boost your team's productivity and scale it to the next level!