HubSpot users were thrilled when HubSpot released its target account feature set (a.k.a. account-based marketing or ABM tools) in May 2020. Although several of these features already existed in various areas of HubSpot, the compilation of these tools with a few new solutions create a one-stop shop for account-based sales teams.
As a sales or revenue operations leader, however, you know that software features are useless if they aren't utilized in the right ways and at the right points in your sales process. So instead of focusing on the specifics and technicalities of these updates from HubSpot, let's take a sales rep-centric approach and discuss how you can coach your team on using ABM tools to create more opportunities and close more deals.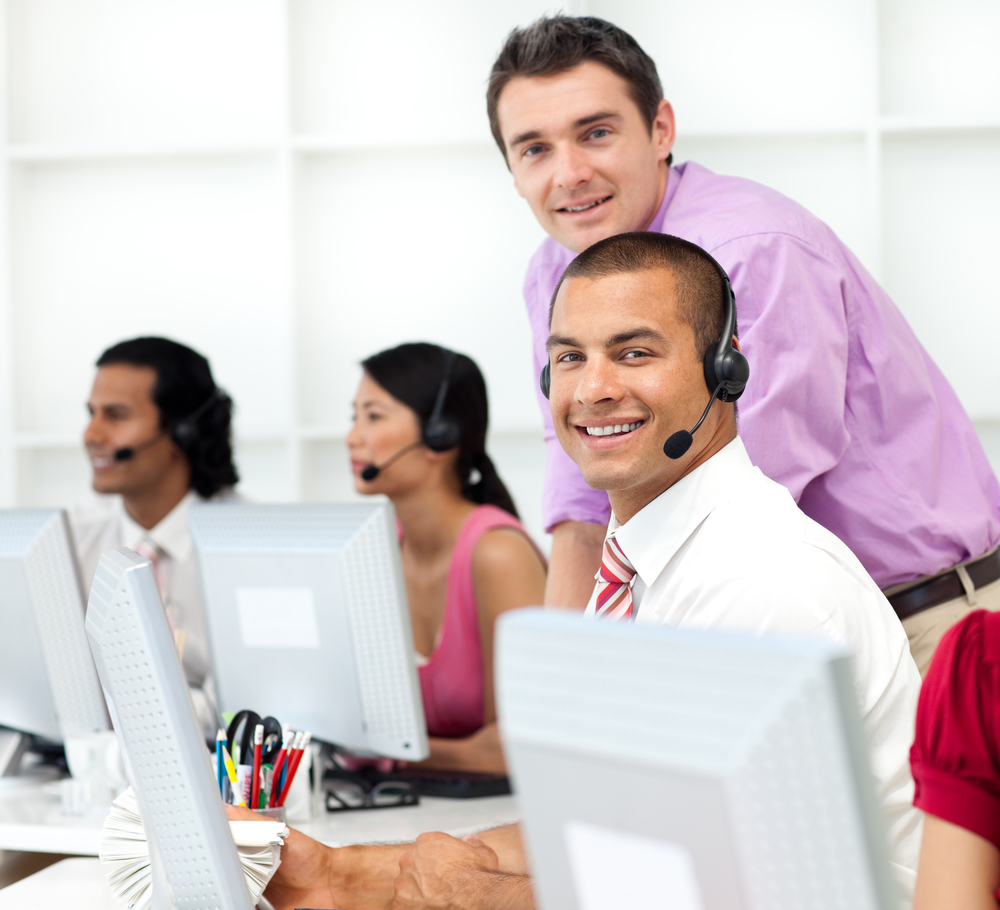 Train Your Team on Sourcing Sales Activities
In order to get the most out of HubSpot's ABM tools, your sales team must take a task-focused approach to each day. Once a sales reps HubSpot tasks are complete, their time will be best spent on sourcing sales activities. It is your responsibility as a sales leader to train them on making this the focus of their day. Sourcing sales tasks should be a much-talked-about subject on your sales floor because little by little, these small tasks add up to big revenue opportunities.
Three Areas in HubSpot for Sales Reps to Source Sales Tasks
HubSpot Tasks Are Your Sales Rep's Command Center in an Account-Based Strategy
When it comes to sourcing sales activities, there are three main areas within HubSpot's ABM suite where sales reps will spend the majority of their time. The first place is their task list (think of it as their command center).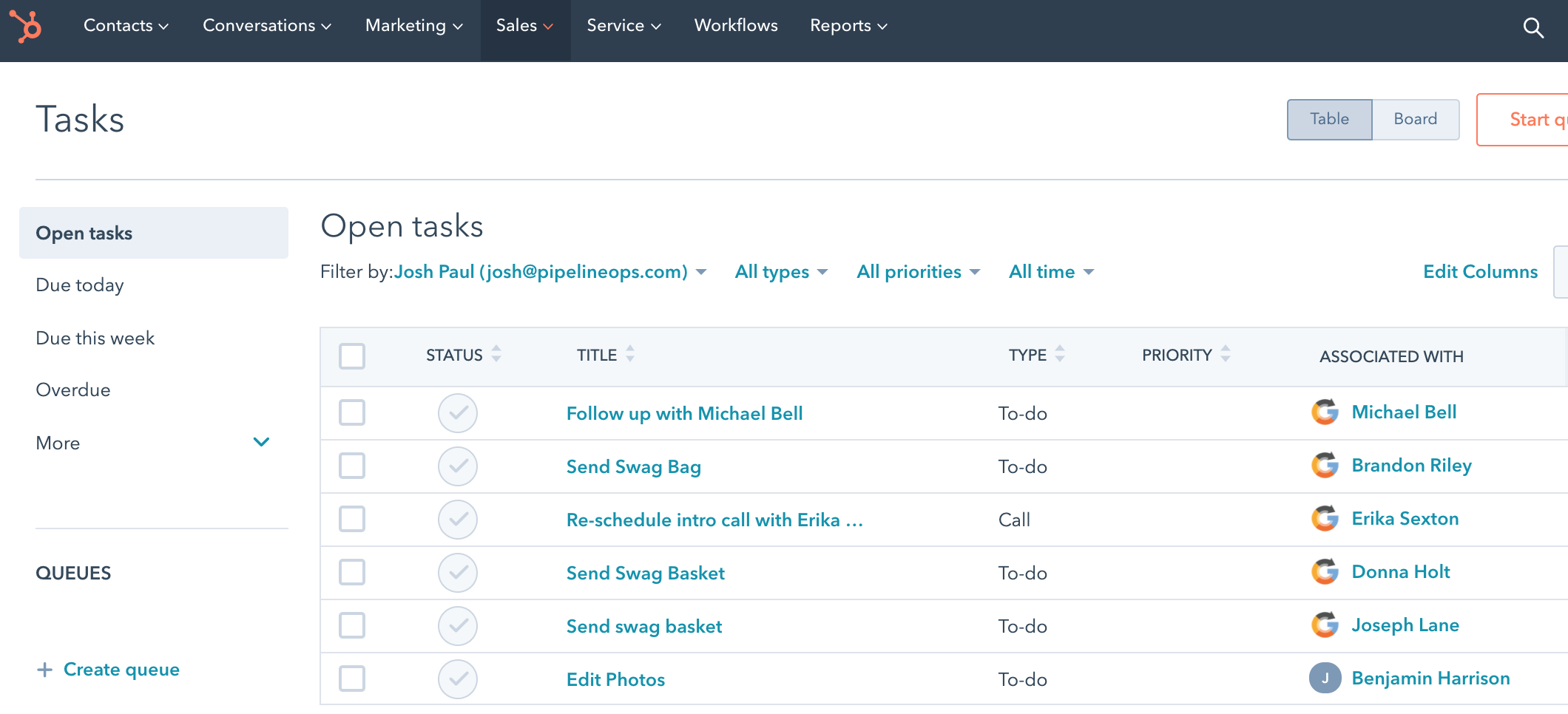 A task list is where sales reps will find their own personal to-do items for all the accounts they are working on. These are tasks that are probably due today or sometime this week, though you can adjust the filters to get varying views to make sure that no opportunity falls through the cracks. Sales reps should focus on checking off these to-do items at the beginning of their day because this is only their first stop on their sales sourcing task journey.
Start Sourcing New Tasks in your HubSpot Target Account Screen
After completing their task list, sales reps should take a look at their target accounts. This screen is where your team members will find all the target accounts assigned to them (if they were specified as account owner).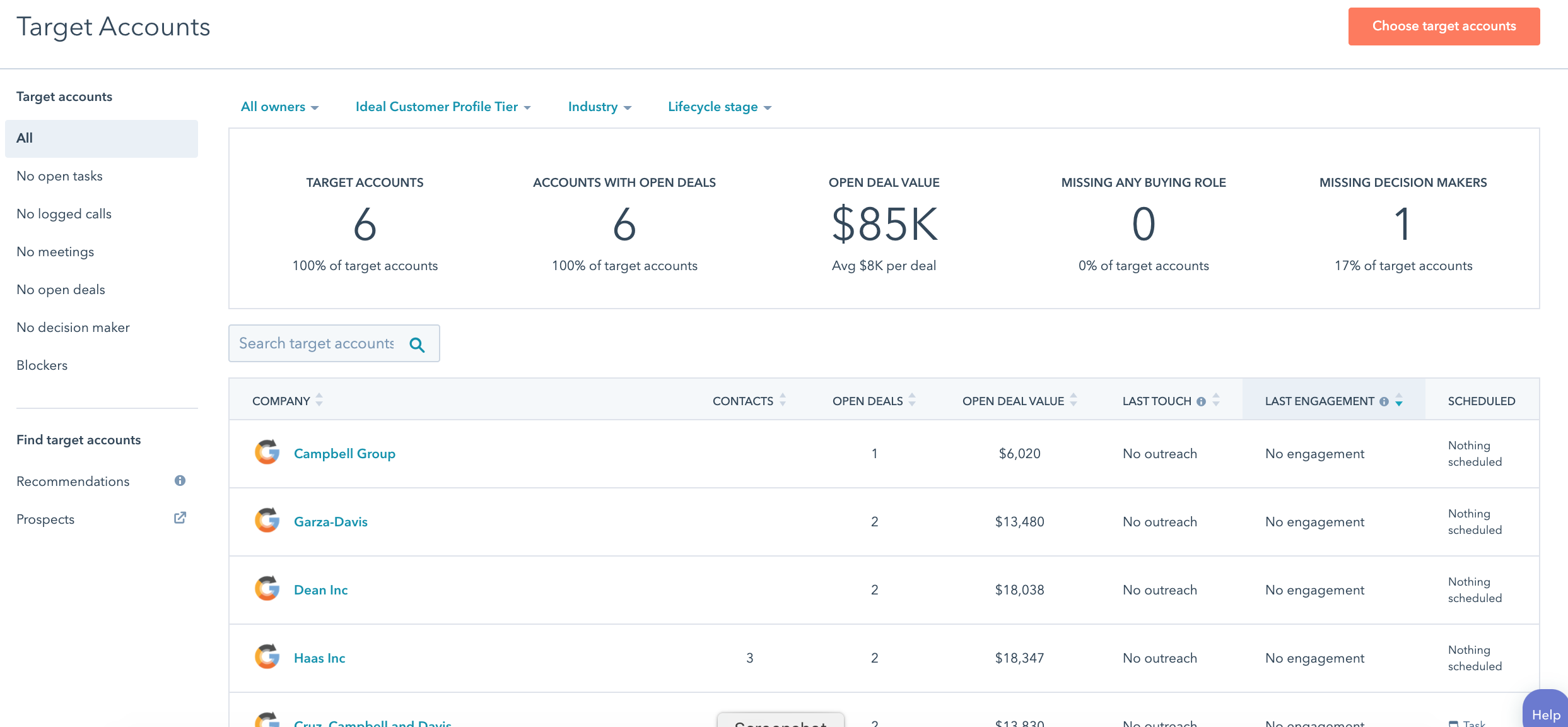 Sales reps need to review each target account and use the "scheduled" column to identify which accounts have tasks or sales sequences scheduled today. For those accounts with nothing scheduled, time can be spent researching that account. Items to consider with these accounts include:
How many contacts have you identified and what are their buying roles?
How have they interacted with your company and content in the past?
Who was the last contact?
Has this contact recently visited your website?
Has this contact recently opened your emails?
Once a sales rep has dug a little deeper into each target account, they should then create tasks for each of them. Identify the target accounts where you don't yet have a deal created, no future activity (task or email sequence) planned, or accounts where you don't have many of the buying roles mapped out.
These tasks could be sending a targeted email, scheduling a phone call, or sending a SMS message. However small these tasks may seem, they are a necessary step in your lead management strategy. In time, these completed tasks will help create more opportunities and close deals.
Farm Additional Tasks From Your HubSpot Company List
The last place your sales reps will focus their attention is their non-target accounts. This screen is for the companies assigned to the sales rep that are not from their target list.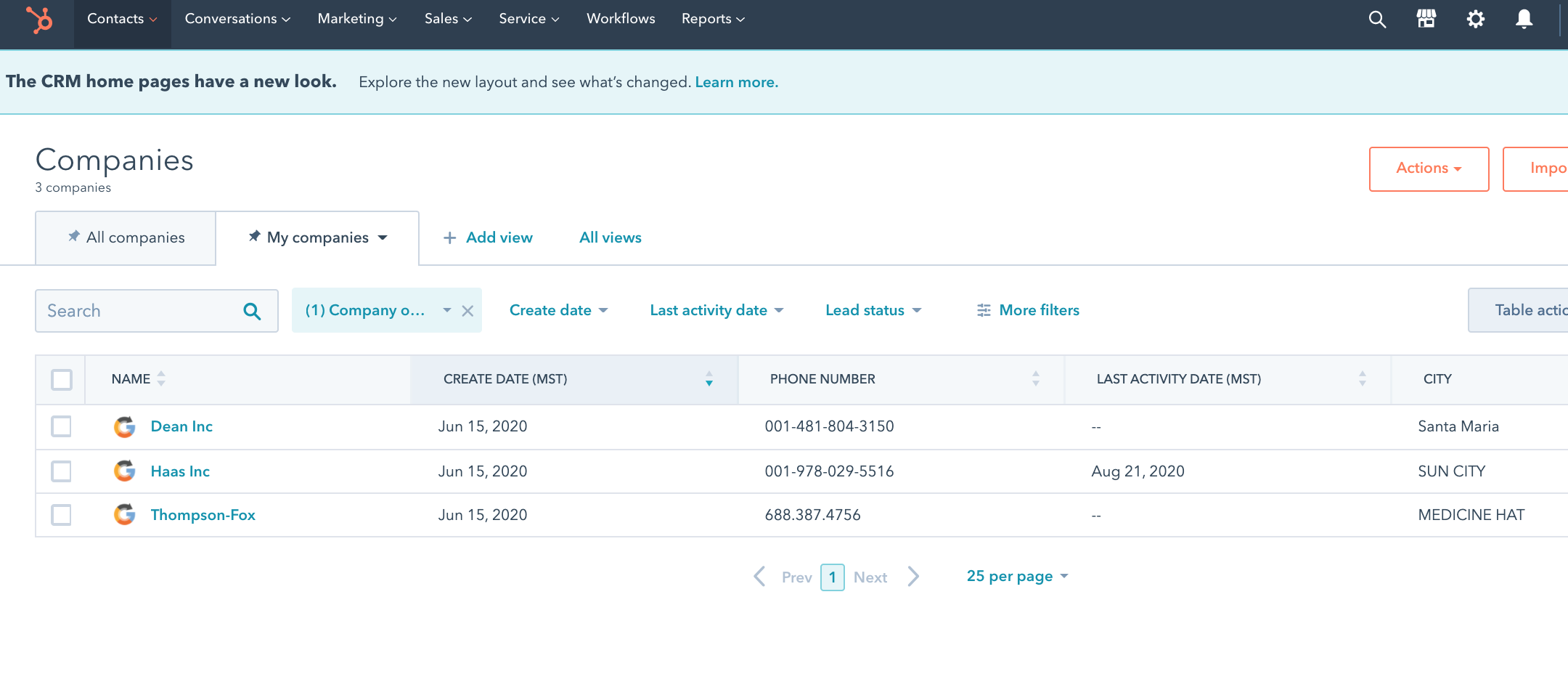 Much like they did with their target accounts, reps should spend time exploring what is going on with each of their non-target accounts. They can look at each company in terms of who they could potentially contact and what that touchpoint could look like (email, phone call, virtual meeting, etc.).
Once the best route is determined, sales tasks should be set up for each non-target account. Again, these tasks will be short and simple, which is exactly what sales reps need in order to help them succeed in your sales process. And the easier it is for them to succeed, the more deals they will close.
Sourcing Sales Tasks Takeaway
HubSpot's new ABM tool set provides all the complexity your sales process needs on the back-end, so your sales reps can concentrate on simple sales sourcing activities that move deals along your sales pipeline. If you can keep the dialogue and training focused on this two-step approach (sourcing tasks and completing tasks), sales reps can work on creating opportunities consistently and selling more, faster.