Millions of companies spend billions of dollars each year designing and optimizing ecommerce websites that attract their target customers and help them fall in love with their products and/or services.
Oftentimes, however, love turns to frustration when it's time for the customer to make a purchase and submit their online payment using the website's checkout process. This means big dollars are slipping through the fingers of your business.
In fact, research conducted by Baymard Institute shows that the average documented rate of cart abandonment is nearly 70%! That means ecommerce businesses lose over two-thirds of their potential sales in the checkout line.
Whether it's an overly complicated checkout process or something as simple as the website not accepting the customer's preferred method of payment, cart abandonment is a vicious sales killer.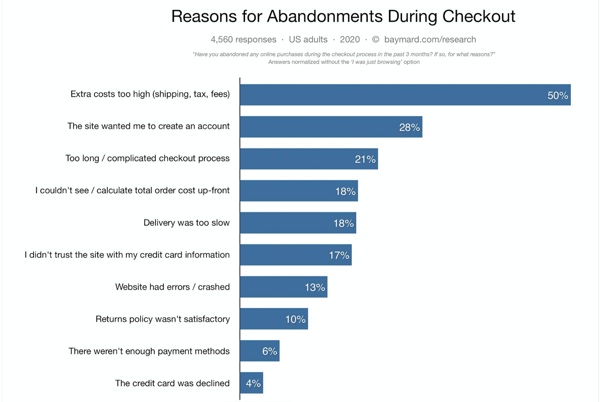 While it seems like every software platform offers a payment feature of ecommerce integration, there is a clear divide between companies whose core competence is the payment experience and those whose main focus is other aspects of their software.
Compounding this problem for sales teams is the fact that several popular online checkout platforms do not seamlessly integrate with key CRM software packages. This can spell disaster when customers fail to complete a purchase and your sales team doesn't get a notification from your CRM to follow-up and get them back on track to make a purchase.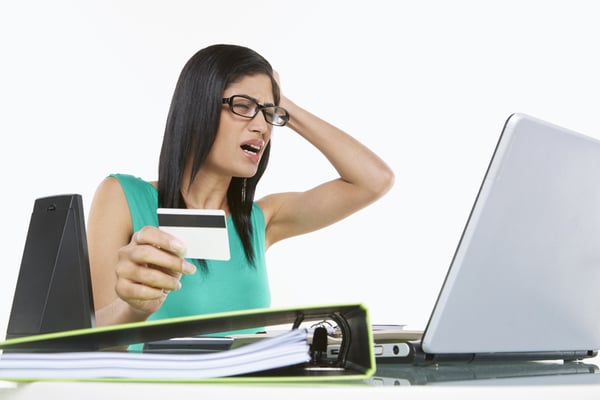 Luckily, you can prevent cart abandonment with conversion-optimized technologies such as Spiffy. While not a stand-alone shopping cart solution (i.e. Shopify or Squarespace), Spiffy is a single-page checkout tool that can be a great addition/optimization to your current marketing stacks. And from a marketing and sales perspective, Spiffy fully integrates with HubSpot's sales and marketing hubs - from its most basic (free) version all the way up to its enterprise level.
ECommerce Payments and Checkouts in 2020
Businesses of all shapes and sizes have seen online shopping demand grow exponentially in the past few years. 2020 pushed that demand to a new level when companies that had never sold their products online were forced to due to Covid-19 quarantines and restrictions. According to a U.S. Census Bureau report published in August 2020, U.S. retail ecommerce sales as a percent of total retail sales increased 32% in the second quarter of 2020 compared to the first quarter.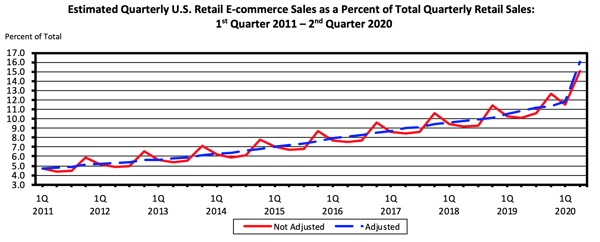 Now more than ever, companies must offer smooth online shopping experiences to their customers in order to survive and thrive. While there are dozens of options for online shopping cart platforms, many of them fall short of consumer expectations.
Michael R. Hunter, Co-Founder of Spiffy, explains that expectations are high when it comes to your customer's payment and checkout experience because your business is no longer merely competing with companies that sell the same products and services as yours. He shares, "As a small business, specifically in your checkout experience, you're competing with the Nordstroms of the world, the Home Depots of the world, the Amazons of the world. Consumers are used to a flawless checkout experience."
Because of this harsh comparison, your company's payment and checkout processes need to be user and mobile friendly, multifaceted, and updated to reflect the features and options available from household name ecommerce checkouts.
Spiffy: A Powerful and User-Friendly Online Checkout Experience
Spiffy users can build a basic checkout page in a simple 5-step process. The quick and easy formula comes in handy for sales teams who want to get deals closed immediately when the client is on the phone and ready to buy. In just a few quick clicks, your customer can have a customized checkout experience based on a sales conversation that took place just minutes earlier.
Once you've created a checkout page, the add-on options are nearly endless with Spiffy.
Custom fields allow you to add payment plans, subscription offers, testimonials for the particular product/service that a customer has added to their cart, or even an upsell. Depending on your product or service, an upsell could be a similar product offered as a one-time purchase or even a 6-month subscription. You could also offer one hour of consulting or an event ticket. Spiffy's custom fields even give customers the ability to choose their seats to an upsell event straight from checkout.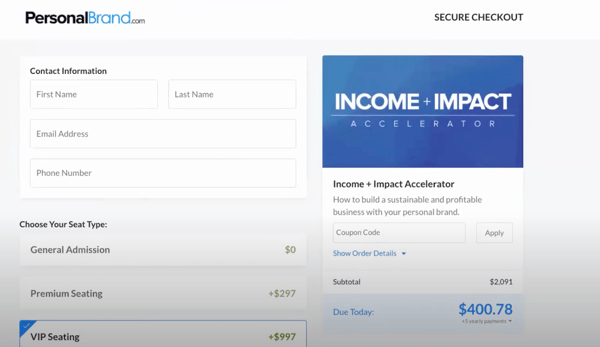 Hunter says that order bumps or upsells can be particularly helpful to Spiffy users as they've been shown to increase checkout revenue on average 17-27%.
What makes Spiffy especially unique is the fact that it is the first mobile-first platform to be built all the way out from the back-end to the front-end. Most checkout technologies are built for desktops and then altered over time for mobile devices. Spiffy's mobile-friendly interface is especially important today as m-commerce (mobile commerce) accounted for nearly 25% of all online sales in 2019 and is expected to reach 45% by the end of 2020 (Businessinsider.com).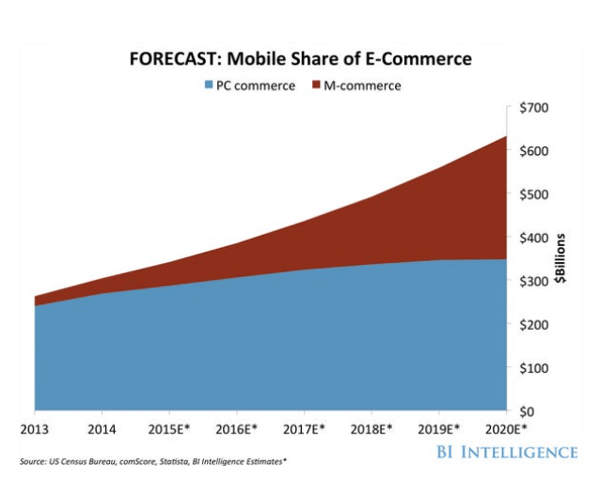 Another unique feature of Spiffy pertains to user data files. Unlike other technologies, "We don't hold your data hostage," says Hunter. You are able to download data from Spiffy into a CSV file at any time in case you want to use that data to build reports in another software platform or even cancel your subscription to Spiffy.
Integrating Your Online Checkouts With HubSpot
HubSpot users will appreciate that Spiffy's online payment and checkout pages now fully integrate with all levels of HubSpot's sales and marketing hubs. That means HubSpot users can set automation workflow triggers up in Spiffy to nurture leads, create deals, add customers to mailing lists, etc. - all based on purchase decisions the customer makes on a Spiffy checkout page.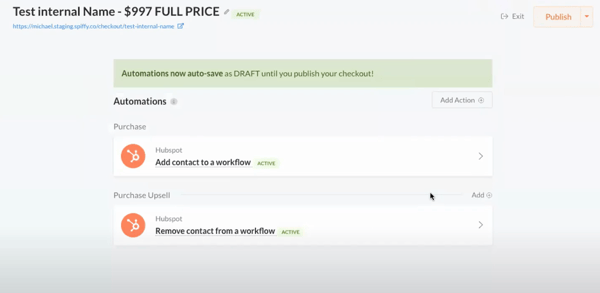 Below is a quick example of the way HubSpot and Spiffy can work a lead together.
Let's say your culinary company is offering a one-year jelly of the month club subscription (just in time for the holidays!):
On the Spiffy checkout page, your company could offer a discount on the one-year subscription if they sign up for a one-hour online cooking class on the art of jelly making (an upsell).
Using Spiffy, you can set up automation triggers in HubSpot that notify your sales reps when the customer completes the cooking class and enables your team to respond with more offers, promotions, etc.
Towards the end of the one-year subscription, your Spiffy account can be customized to trigger workflows in HubSpot for subscription renewal information or new and updated offers.
If the customer cancels their subscription early, an email with a link to a sales rep's calendar can be sent in an attempt to re-engage the lead before it goes cold.
If the customer's credit card payment fails, HubSpot automation will be triggered so that a sales rep can reach out to the customer and secure another payment method.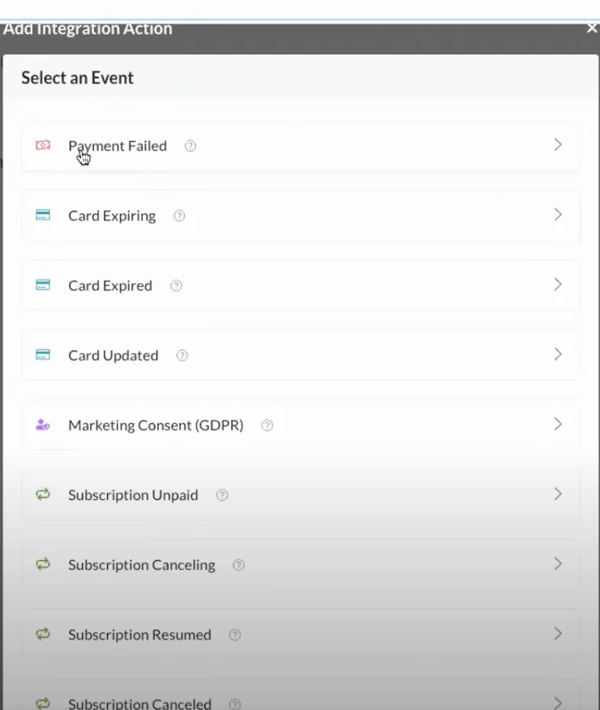 Using a combination of Spiffy's capabilities and HubSpot automation, you can create a standout payment and checkout experience for your customers. On the back-end, you'll be able to eliminate some of the guesswork out of your sales and marketing efforts by automating actions at the right time to drive revenue in your company.
HubSpot Checkout and Payment Experience Takeaway
As more and more companies look to increase revenue via ecommerce, your customer's payment and checkout experience holds more weight than ever. Businesses that use antiquated technologies that are not mobile or user friendly will simply not be able to survive in 2021 and beyond.
As we become more reliant on data and CRM software packages, the outlook is especially bleak for checkout technologies that do not seamlessly integrate with your existing CRM.
Upgrading your payment and checkout system with a conversion-optimized process such as Spiffy can give your company the upper hand in creating sustainable revenue growth. Even better, syncing its capabilities with your HubSpot data will empower your sales team to meet (or exceed) their quota and enjoy success with your company.