According to LinkedIn's State of Sales Report 2020, 97% of salespeople said that technology is either "important" or "very important" to their sales process. Meanwhile, the number of salespeople relying on sales intelligence tools has increased 54% in the past two years.
These stats highlight the importance of your company's sales tech stack, but with thousands of different options and integrations available at your fingertips, how do you choose the best CRM and sales technology for your company?
That's the question I asked Dan Cilley, CEO of Vendor Neutral, for this episode of the Modern Sales Management Podcast.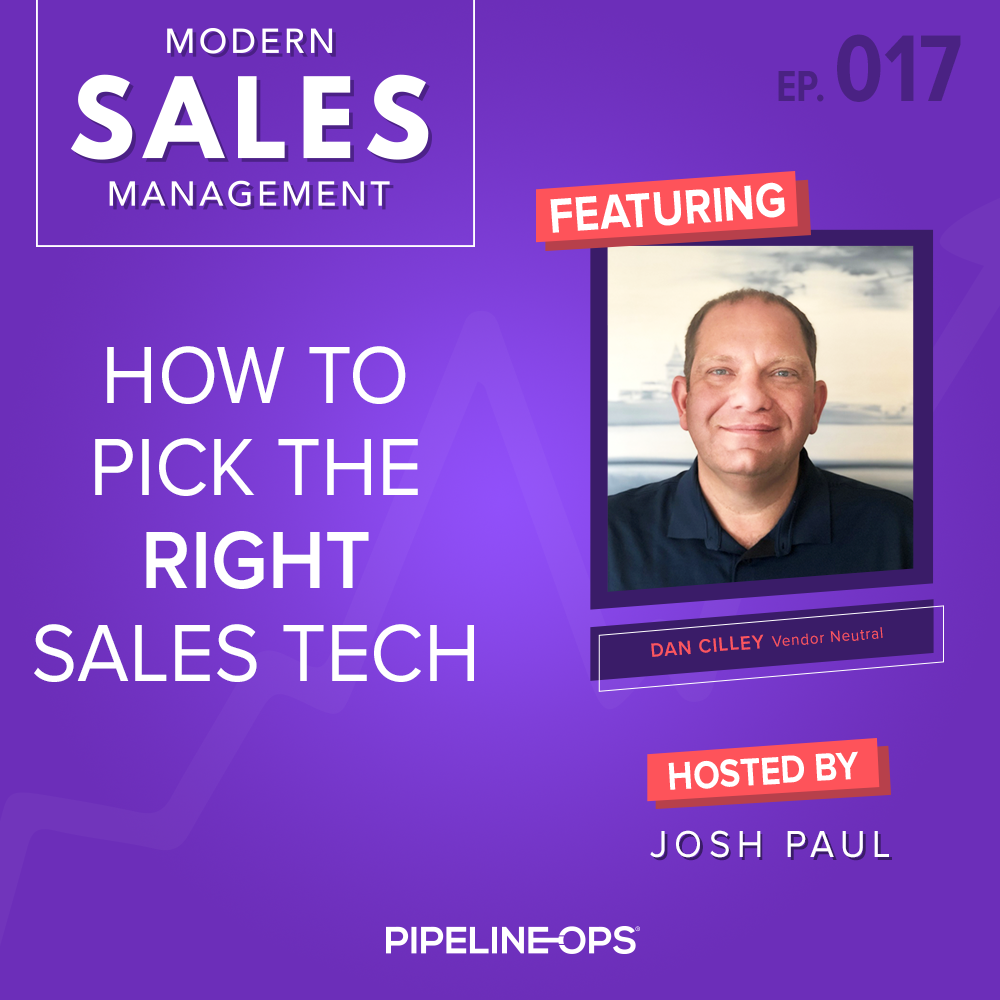 Dan helps enterprises identify the right technology path to build sustainable growth in their specific industry. His company's unique selection and integration process actually prioritizes technology as the last step in the equation of your company's sales enablement strategy.
During our conversation, Dan shares his framework for evaluating your company's current needs and goals, while aligning that with your present-day sales technology initiatives, team, and budget.
Dan and I also discuss:
How to avoid the common problems companies often face when choosing a sales tech stack
How to determine if a sales tech solution will address your company's priorities
Why relying on your peers for sales tech advice and reviews can backfire
Why sales process evaluation is the first (and most important) step in choosing the right sales tech stack
Tips on budgeting for sales technology
Why engagement has the greatest impact on your sales process and how technology stacks can optimize your team's engagement power
How the sales tech landscape has changed in the past three years and its future outlook
How to avoid getting overwhelmed while building your team's sales tech stack
What role executives play in sales technology selection, integration, and adoption
What digital transformation means and how it is affecting sales technology
How Covid-19 has affected the virtual seller and how to maximize the outlook for your company's long-term benefit
Tips on harnessing the advanced insight sales technology offers without overcomplicating the sales process for your salespeople
Why the right sales technology pushes information in front of your sales team to facilitate opportunities (instead of pulling them away with distractions)
How to avoid getting distracted with "shiny objects" when selecting the best sales tech stack for your company
Learn more about Dan's company by visiting its website or connect with him on LinkedIn.
Subscribe and listen to all episodes of the Modern Sales Management podcast on your favorite podcast app or by visiting ModernSalesManagement.com.