Companies of all types have been placing a heavy emphasis on inbound lead strategies for the past few years. While some may argue inbound is the key to sustainable sales success, others point to the lack of control of your pipeline.
Many sales leaders wonder if the inbound mentality is creating a culture of less-effective salespeople who can only close leads that are served to them on a silver platter. For the long-term success of your company and its salespeople, is outbound sales the real game changer?
We discuss this loaded question with Skip Miller, President of M3 Learning and author of Outbounding: Win New Customers with Outbound Sales and End Your Dependence on Inbound Leads, on this episode of the Modern Sales Management Podcast.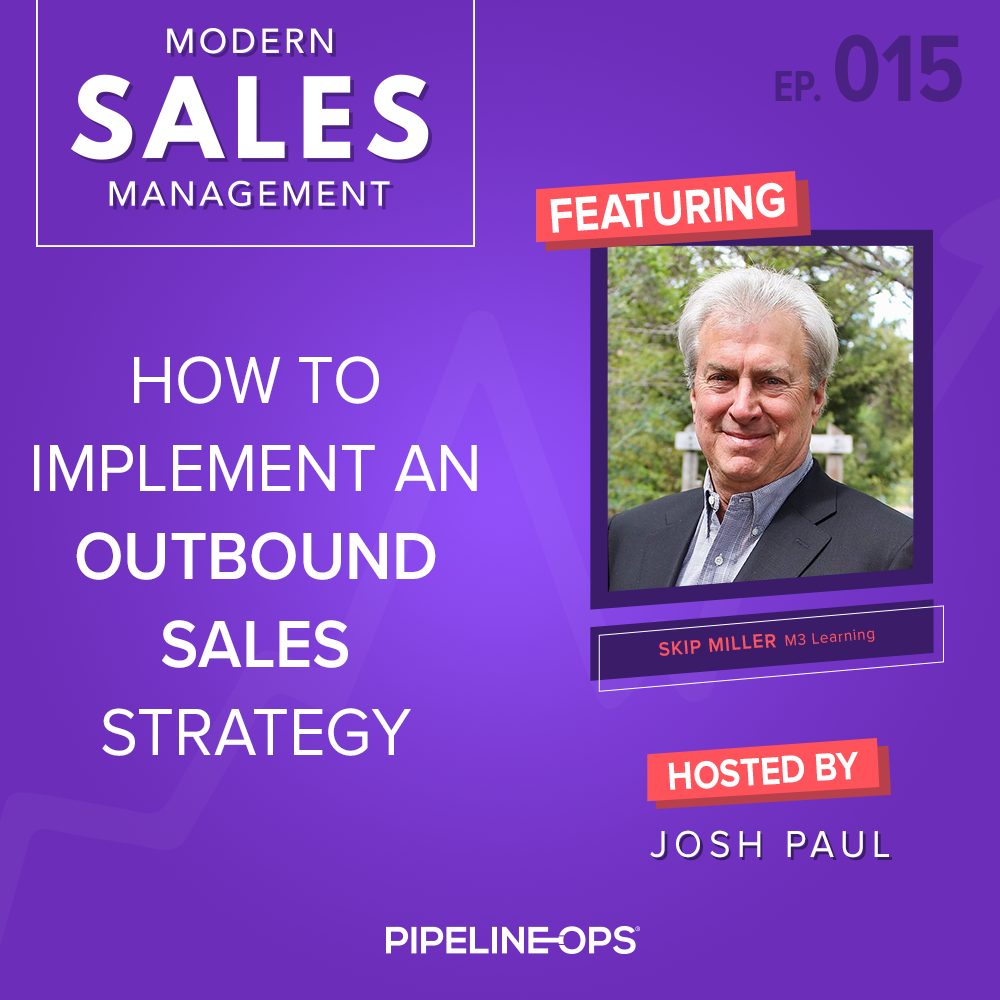 After the uncertainty Covid-19 has created, Skip says we can't bank on always having low-hanging fruit ripe for your sales team to pick. He feels the most adaptable and successful sales teams have an outbound focus, which enables them to create, rather than seize, sales opportunities.
We also discuss:
How to create a high-performing outbound sales team
Tips on accelerating the sales process without losing fundamental sales skills (i.e. prospecting, qualifying, etc.)
Why sales managers need to develop great messaging, sequences, and cadence and how to do just that
How the inbound marketing revolution has negatively impacted the sales landscape and how outbound can improve it
Why attitude is so important when it comes to sales conversations
What sales managers often get wrong about outbound sales and how to avoid these pitfalls
Tips on creating an outbounding culture
Why having a vision and a mission can positively change your sales organization
Tips on selling to above the line buyers
Why leading indicators (not trailing indicators) are the keys to sales success
How to write sales emails that will be opened and read
Why outbound sales is like investigative reporting
Why salespeople need to stop offering to help prospects who never asked for help
What the c-suite needs to know about outbound sales teams
Connect with Skip on LinkedIn and learn more about his company on his website, including the collection of books he's authored on sales strategy and sales management. His newest book, Outbounding, was just released on Amazon today!
Subscribe and listen to all episodes of the Modern Sales Management podcast on your favorite podcast app or by visiting ModernSalesManagement.com.