Sales enablement is a term that has recently gained a lot of traction in the business world. While sales enablement has always existed, it is only in the past five years that a universally accepted term has been put forth to describe the processes, people, and technology that reduces friction in the sales process.
It seems everyone is in agreement that successful businesses should focus on sales enablement in order to close more deals and grow revenue, but when it comes to executing sales enablement strategies, there is a lot of confusion about the most impactful approaches. Therefore, many companies fall short.
We talk about the challenges of sales enablement with Andrew Quinn, Vice President of Sales Productivity and Enablement at HubSpot, on this episode of the Modern Sales Management Podcast.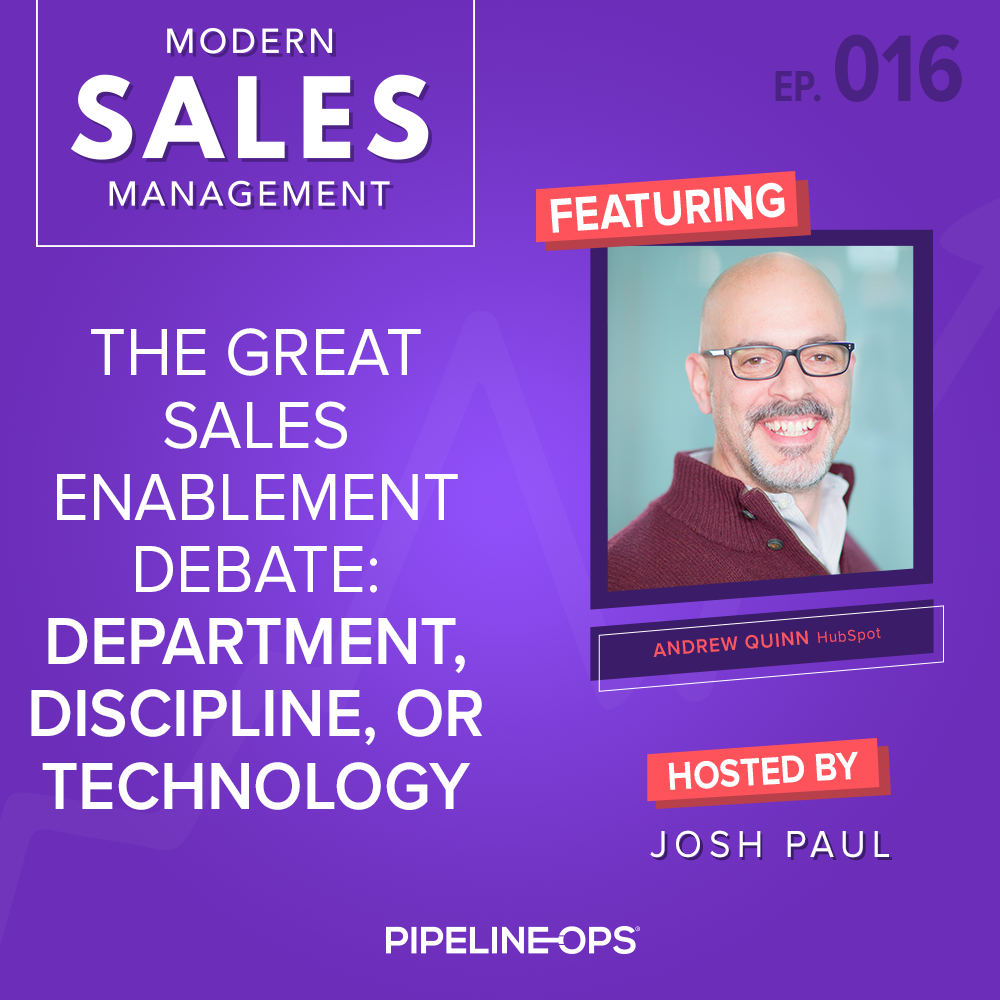 Andrew shares that sales enablement is often viewed as a business department or a tech stack, when instead it should be treated as a discipline within your company (similar to annual planning or financial disciplines, for example).
To build a strong sales enablement culture at your company, Andrew says you should pinpoint what the ideal outcomes are for your business and work backwards to identify the present-day roadblocks that prevent you from reaching those desired goals. Once those are apparent, sales enablement is making the most impactful changes with the least amount of effort.
Our discussion also covers:
What role technology plays in sales enablement
Tips on building a sales enablement culture at your company
Why friction in your sales process can be an important starting point in your sales enablement strategy
How to find the balance between the physicality of sales and the technical infrastructure behind your CRM to maximize sales revenue
What role trust plays in sales enablement
Why sales enablement is change management at its core
What the three main components of sales enablement are and how to equip your sales team with these tools
Why companies struggle to create simple sales processes for their salespeople and how to overcome this hurdle
How to perform due diligence on your CRM in order to prioritize success for your sales team
How sales enablement has changed within the past 5 years and its future outlook
What role senior leaders should play in sales enablement
How to use a salesperson's path of least resistance to optimize your sales process
Why every department has a role in sales enablement and how to align your entire company with this strategy
Connect with Andrew on LinkedIn or email him at aquinn@hubspot.com.
Subscribe and listen to all episodes of the Modern Sales Management podcast on your favorite podcast app or by visiting ModernSalesManagement.com.