Hitting a sales slump is a right of passage for every salesperson and team, and this year has been especially tough across various industries due to the uncertainty of Covid-19. It's no surprise that 57% of sales reps are expected to miss their quota this year (Salesforce).
Knowing how to increase sales revenue when it's not where your company needs it to be is a tricky situation for executives and sales teams alike. Finding the exact areas to improve in your sales process can feel like searching for a needle in a haystack, but it doesn't have to.
"Student of Sales" Ryan Reisert shares his unique formula for sales process improvement on this episode of the Modern Sales Management Podcast.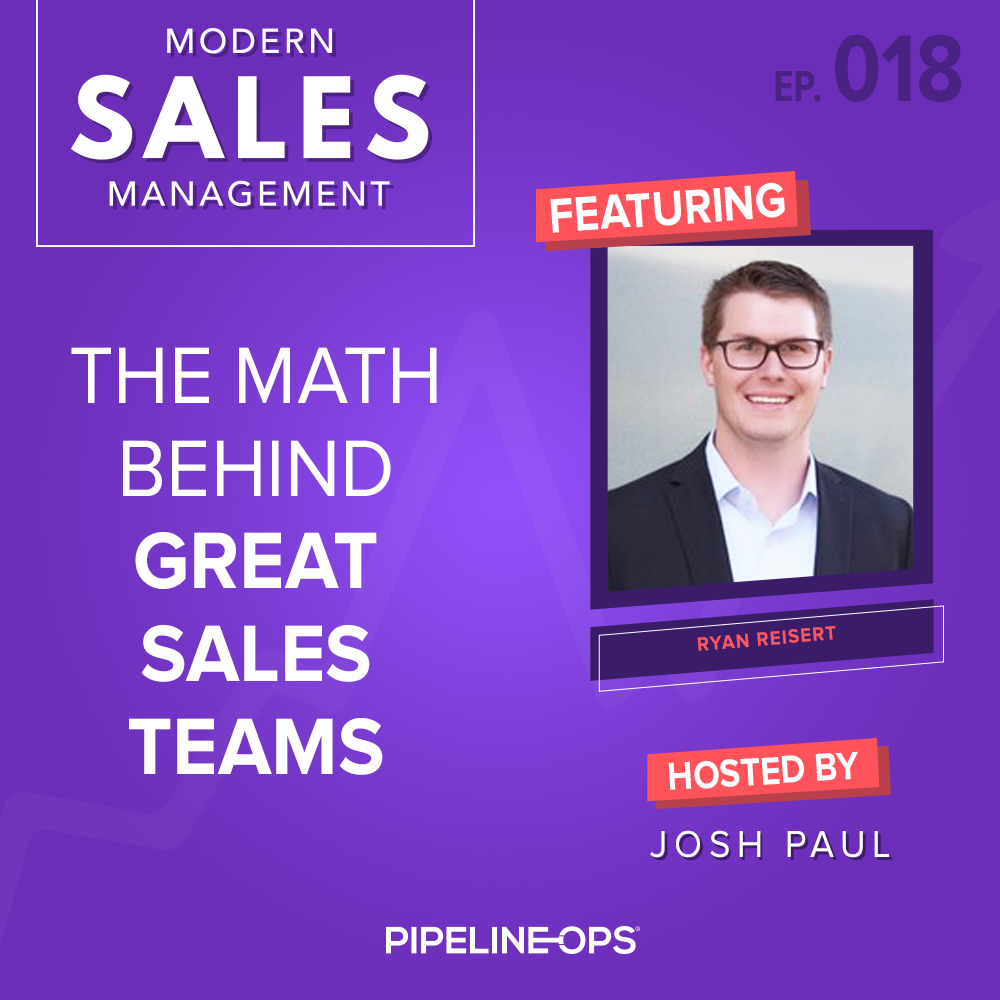 Ryan is well-known on LinkedIn and YouTube for his numbers-driven sales strategy he calls the "math of sales." Ryan believes that your sales process can be broken down into smaller disparate pieces in order to create benchmarks for sales rep to improve and build upon. He encourages sales leaders to use simple math to solve their fundamental sales problems.
This week's conversation also covers:
How to use a "bucketing system" to contact the leads that are most likely to close
How to have more conversations with the right people in order to increase sales revenue
Why optimizing your sales process is always important, even when your team is enjoying success
How math can be used to make your sales process more efficient
Why looking for quick wins always loses in the long run
How to optimize sales activities to close deals faster
How to remove waste from your sales funnel
Why a sales manager's target message to his reps is so important when it comes to math of sales accuracy
Tips on finding out who your best customer is and solving their pain points
How to use your math of sales to create benchmarks for your sales reps to build upon
Tips on looking for your customers in the right places and budgeting for this search
Math of sales common pitfalls
Why time is the biggest factor in creating sustainable sales revenue
What role reverse engineering plays in your sales process and how to use this as an optimization strategy
Why salespeople often give up on customers too quickly and how to avoid this
How to adopt a "process before technology" approach in your sales strategy
Learn more about Ryan by checking out the books he has co-authored, Outbound Sales, No Fluff and The Math of Sales: Market Domination. You can also subscribe to his Patreon page for exclusive access to more of his content and ideas.
Subscribe and listen to all episodes of the Modern Sales Management podcast on your favorite podcast app or by visiting ModernSalesManagement.com.